LIMITED TIME SALE  50% OFF
Glass Bottle Cutter Cutting Tool

This Bottle Cutter is an ideal tool for effortless, secure, fast, and accurate cutting of glass bottles. The machine can simultaneously cut all bottles, recycle and make art. It is more stable and easier to use than plastic models. You can cut bottles perfectly in 5 easy steps.

Have some old wine bottles or mason jars or beer bottle or any kind of bottle in particular? This kit will let you unleash your inner artist and turn them into. cool. and functional masterpieces!
Each blade is made of sharp and hard metal acrylic, the durability have been tested for many times, well built and lasts a long time, perfect for practicing handmade


BE STYLISH AND SAVE MONEY AT THE SAME TIME!
GLASS
ASH STRAY
DECORATION
PENCIL HOLDER
LIGHT DECORATION
CANDLE HOLDER
THE POSSIBILITY ARE ENDLESS
SAVING THE ENVIRONMENT HAS NEVER BEEN THIS FUN!

QUICK, EASY AND AFFORDABLE JUST PLACE THE BOTTLE IN HOLDER SPIN AND POUR WITH WATER THEN YOU'RE READY TO DECORATE <3
Glass Bottle Cutter , inspire you to create different kinds of sculptures and garden decoration. Don't have to throw away the useless beer or wine bottle any more. A Must Have item to let you enjoy your creative life!
FEATURES
Versatile Use --- This glass bottle cutter is specially designed for cutting various shapes of Bottle like square, round bottle as well as bottle neck of round bottles

Adjustable Fit Most Bottles --- With width adjustment to 6cm and length adjustment 16mm. You can easily cut any bottle you like with this bottle cutter unless the bottle is embossed
Easy Operation --- The bottle can be effortlessly fixed on the bottle cutter, the cutting machine can make the bottle stable and firm, so we can cut the bottle more easily without using too much force, you can complete your own works of art in a better way.

DIY Creativity & ECO-Friendly --- With glass bottle cutter you can create easily creative decorations. This will enhance your creative thinking and artistic sense. While decorating your unique and beautiful life, it also contributes to environmental protection, rather than discarding bottles directly.

Prosperous Life --- There are various of DIY activities in our daily lives like making square lamps with square bottles, creating a candle lamp or a vase with round bottles, or cutting the bottom of the bottle with grooves to put into eggs or coins.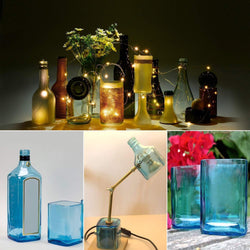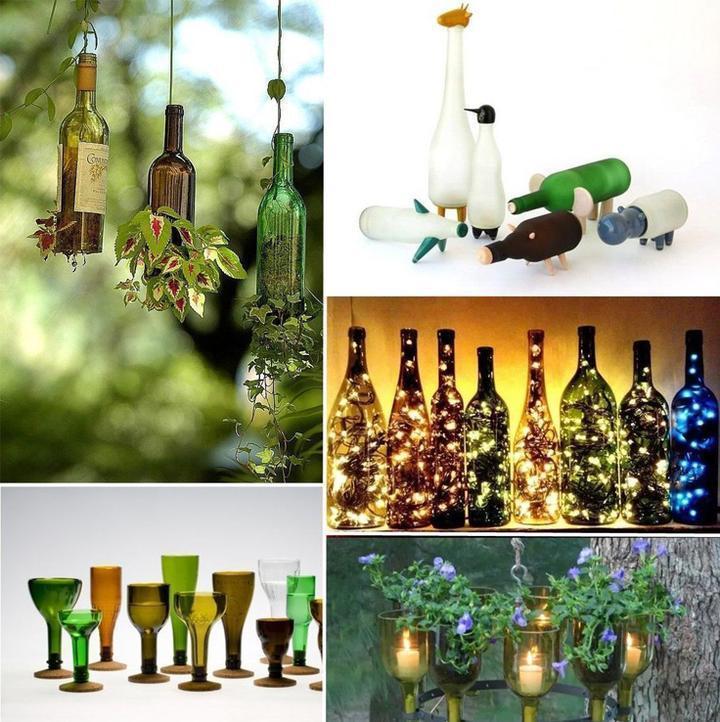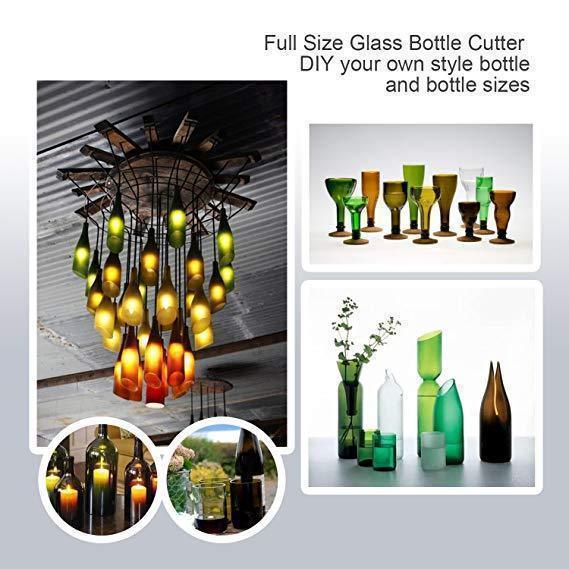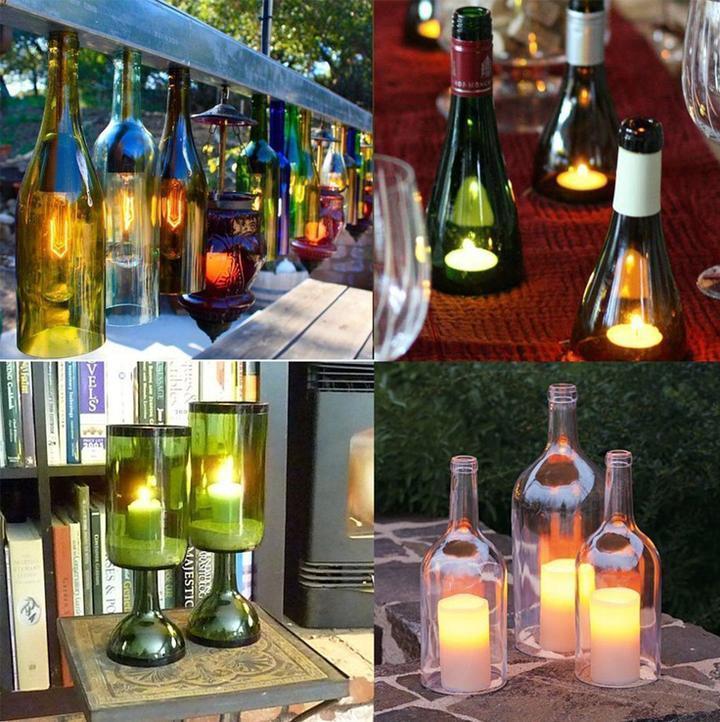 HOW TO USE
Step 1: 
Once the cutting wheel is at the proper location, start slowly turning the bottle. Rotate it for 3-5 times with moderate pressure and patient.

Step 2:
Separation
The best method that produces the most consistent results is simply to pour hot and cold water over the score line alternately
This cycle of hot and cold water will make the bottle to crack along the score line. Thicker glasses may take additional cycles

To prevent chipping, rub the inside and outside edges lightly with the polishing paper. After a short time, the edge of the glass will become perfectly flat and have a dully gray appearance.
CUSTOMER QUESTIONS & ANSWERS:
Question: Can this product be used to cut bottles into drinking glasses?
Answer: Yes! Suitable with most of beer/wine/drinking glass round bottles provide you cut both from the top or the bottom of the glass bottles and mason jars.
Question: When I cut it, I was worried that the edge of the glassware was very rough. How can this be solved?
Answer: When you have finished cutting, you can wipe the glass slag with sandpaper that is included in the package